Extreme Relief Plus balm is a topical pain reliever specially formulated using a blend of 16 essential oils, deep penetrating carrier oils, and 250mg of naturally occurring B.S.H. (Broad Spectrum Hemp high in CBD, CBG, and CBN). Extreme Relief Plus is a purpose-driven product with each essential oil designed and added to aid in reducing inflammation and pain. With 4 deep penetrating carrier oils, our balm is meant to get to the root of the problem and penetrate right down to your muscles and provide fast-acting results.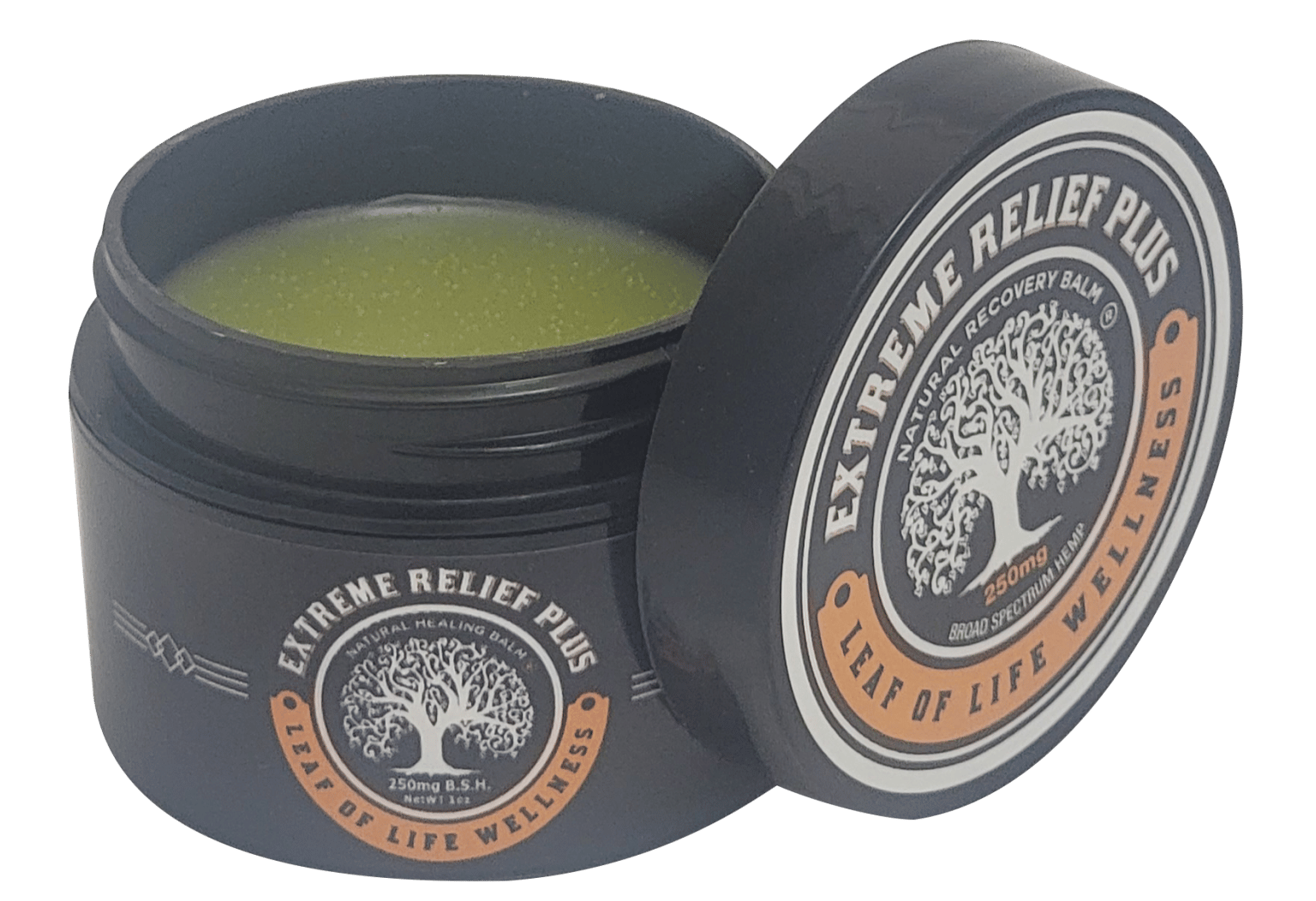 Your first jar is FREE just pay for shipping and handling. Recurring subscription can be canceled at anytime.
WHAT ARE EXTREME RELIEF PLUS INGREDIENTS
There are many potent ingredients in the Extreme Relief Plus; however, the most powerful botanicals include Arnica montana, which has been used in ancient and modern medicine for pain management and treating numerous inflammatory conditions. Vitamin E, a proven protector of bone cartilage and is also ideal for preventing and treating osteoarthritis. Next is Comfrey Leaves, which have been used over hundreds of years as a medicinal plant and have since been evidenced to be efficient as a topical treatment of painful muscle and joint complaints. With the addition of our twelve (12) essential oils and four (4) carrier oils, the efficacy of these ingredients is further boosted, bringing you the best relief possible.
WHAT IS EXTREME RELIEF PLUS SCIENCE.
We have formulated an award-winning product to provide you with the pain relief you need. Our Extreme Relief Plus balm, which gives topical pain relief is specially formulated using scientifically-proven ingredients. These include a blend of essential oils, deep penetrating carrier oils, and naturally occurring B.S.H. Each ingredient in our pain balm is instrumental in combating pain and inflammation associated with many conditions, like arthritis. Research shows that the use of CBD pain products has boomed; it's your turn to understand why.
HIGH DOSE CBD
EXTREME RELIEF PLUS
Anti-inflammatory pain relieving body cream
This stuff really works I wasn`t sure if this product was worth the money but after it for a couple of months I have to say it is. Gives me relief from pain in my hands
Brian B.
Everyone should use this After breaking my coccyx bone And reoccurring old injuries I tried extreme relief plus along with a heating pad and I can!t tell you how much it is helped everyone should really try to it . It!s all natural and you could feel it work instantly​
Michele M​.
Amazing product, has helped me reduce my pain significantly​.
Martina R.​
Extreme Relief Plus By far the best topical CBD product I!ve ever used. Ordered a second one for my daughter!​
Pamela G.​
I've used Extreme Relief Plus I!ve used Extreme Recover for approximately 3 years and I am pleased with the relief it provides to my painful knees.​
Cornelius T.​
Extreme Relief I have been having back and leg pain, Extreme Relief Plus not only stops the pain but I get a great night sleep! I wake up free of pain and well rested.
Karen B.
EXTREME RELIEF PLUS FREE JAR OF AWARD-WINNING PAIN BALM WITH SCIENTIFICALLY PROVEN INGREDIENTS.​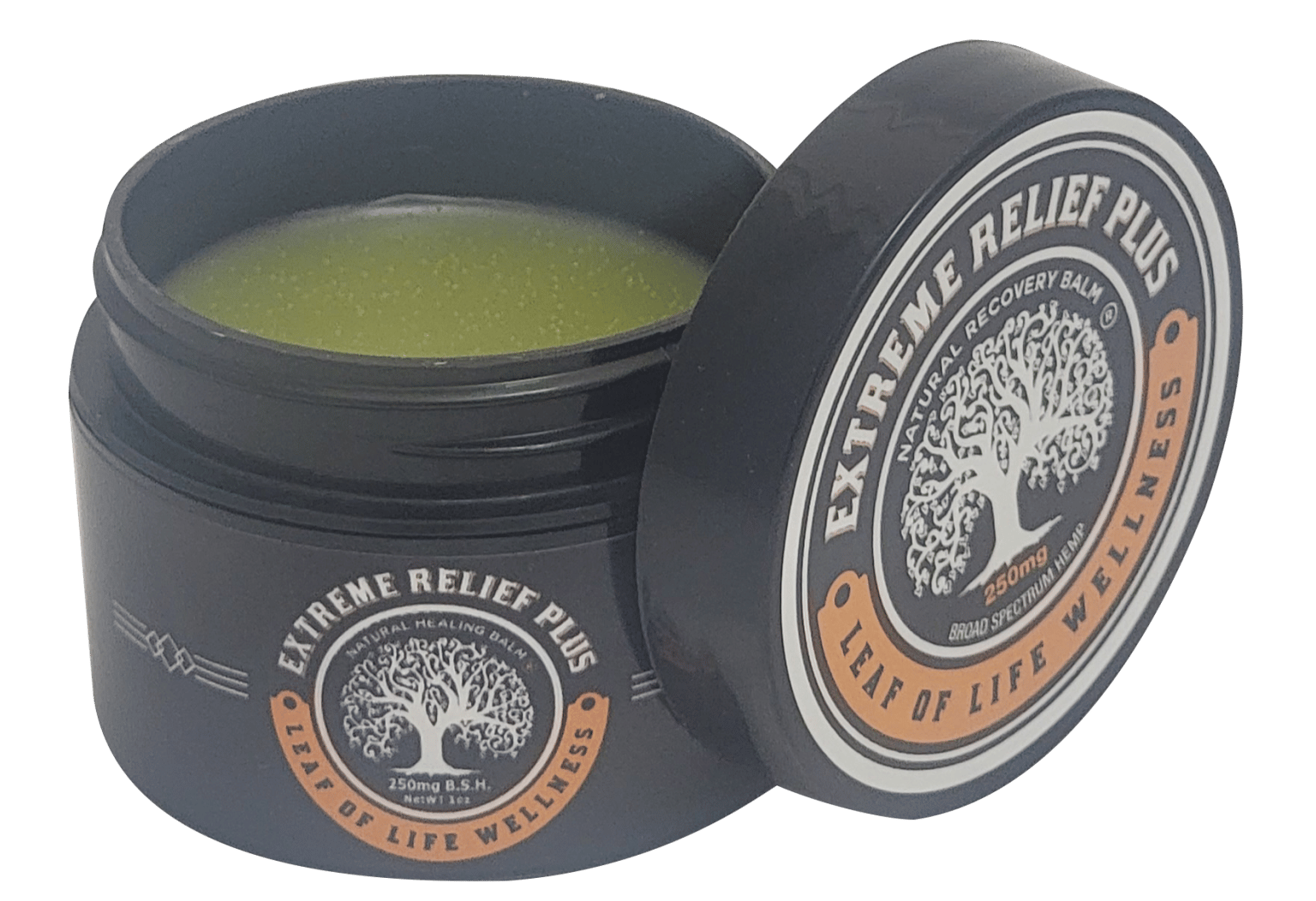 Your first jar is FREE just pay for shipping and handling. Recurring subscription can be canceled at anytime.
Extreme Relief Plus 1oz
/ month
Our Award-winning Extreme Relief Plus Pain Balm is made with the formulation of several potent botanicals and natural ingredients that are scientifically proven to be efficient pain relievers. It is one of the most powerful and reliable pain relievers you will find on the market today and also can reduce inflammation while helping to provide skin hydration from its incorporation of essential oils. With Broad-Spectrum hemp, CBD, CBG, and CBN all concentrated in its formulation, this product can be nothing less than effective. The Extreme Relief Plus means powerful pain relief without the annoying side effects associated with other chemical-filled pain relievers.